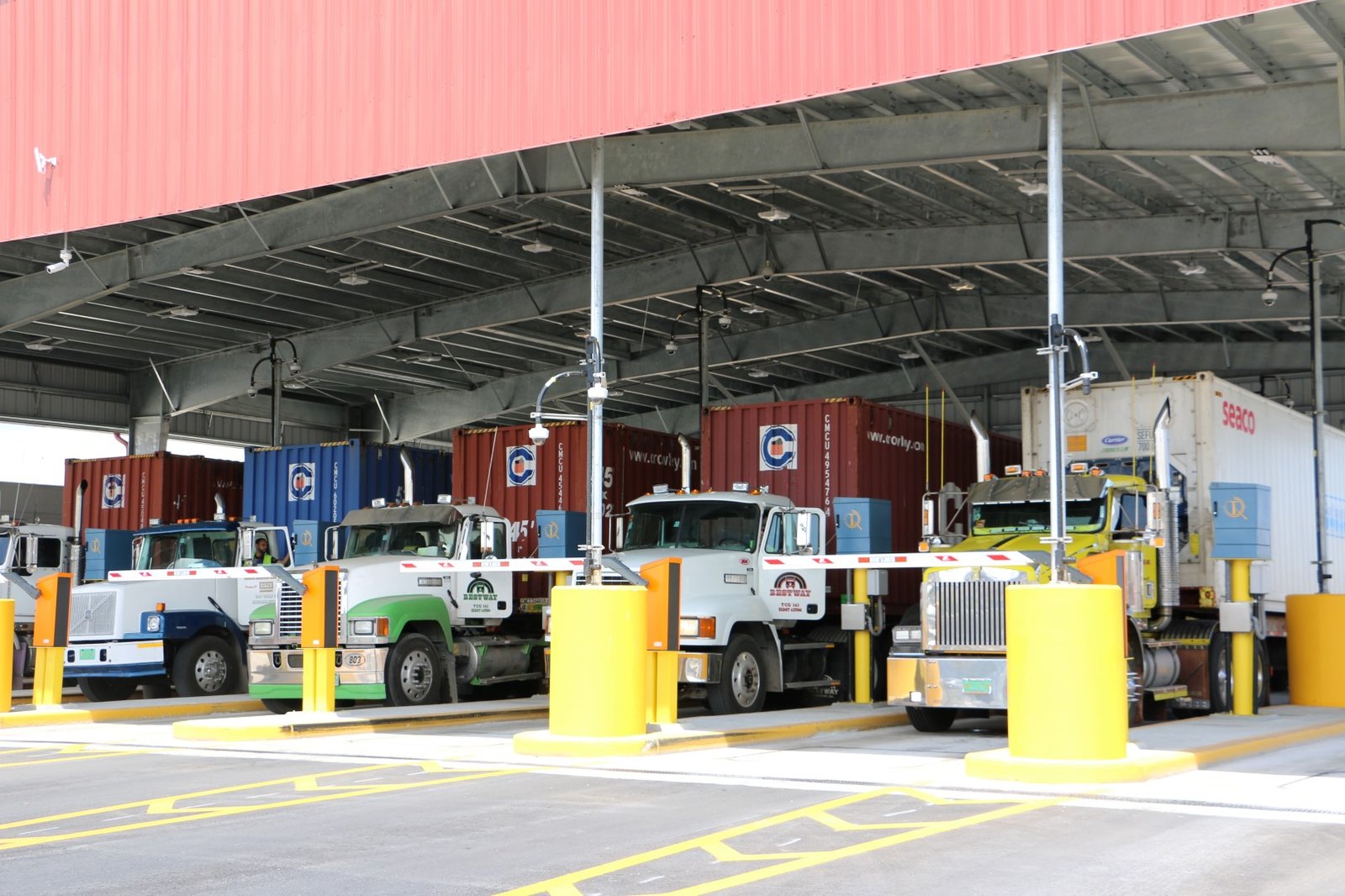 If time is money, Crowley customers and trucking partners are saving more of both.
N
ew
t
echnology,
e
quipment and
i
nfrastructure
are
all
increas
ing
supply chain velocity.
Shippers and trucking partners are increasingly encountering long delays when dropping off or picking up cargo from container terminals throughout the United States, including Puerto Rico. Gate turn times (the time it takes a trucker, once inside the terminal to drop off and/or pick up a load and exit the terminal) range from 45 to 75 minutes at most U.S. port terminals where containers are grounded and stacked. In extreme cases, such as in the Port of Los Angeles/Long Beach, gate turn times can be more than two hours, with queue times (wait to get into the terminal) also exceeding two hours.
The opposite is true at Crowley's port terminals. Major investments in technology, equipment and terminal infrastructure have significantly increased supply chain velocity such that trucking partners can now retrieve cargo in only 20 minutes from its Jacksonville terminal and only 30 minutes from its San Juan, Puerto Rico, and Port Everglades, Florida, locations.
New Technology Accelerates Operations
Over the past two years, Crowley has installed a new Terminal Operating System (TOS) geared towards accelerating gate operations and reducing gate-lane transaction times. With the TOS in place, terminal employees now work from an indoor gate-control center, more efficiently and safely interacting with truck drivers from kiosks via communication handsets and cameras. This operation is also paperless, which reduces gate-lane transaction times.
The technology ultimately allows trucking partners to access and depart Crowley's terminal faster, avoid costly penalties and make more trips per day, putting cargo into the hands of customers faster.
Take Crowley's Isla Grande port facility in San Juan, for example. The time it used to take a trucker to bring a container into the terminal (ingate) before the implementation of TOS averaged 45 minutes. Today, it is only 12 minutes. Time spent at gate kiosks used to average six to seven minutes, and now is less than one minute. And gate-to-gate turn times are now averaging only 30 minutes.
"With the transformation of the way we now handle and move cargo at our San Juan terminal, we are now delivering and dispatching cargo 50 percent faster than before," said John Hourihan, senior vice president and general manager, Puerto Rico services.
Results have been equally impressive in Port Everglades where gate turn times have been reduced by 56 percent (75 minutes previously to 33 minutes today) despite moving to more of a grounded and stacked container operation. Likewise, in Jacksonville gate turn times are down 39 percent to an average of 17 minutes.
"We are very pleased with the remarkable results the new terminal operating system has delivered to our customers," said Steve Collar, senior vice president and general manager, international services. "Truck drivers have commended us for reducing the time they need to transport cargo into and out of our terminals while making the automated system user-friendly. And, customers really appreciate the increased velocity with which their cargo reaches its destination."
New Equipment and Infrastructure Also Contribute to Faster Turn Times and Increased Cargo Velocity
In Puerto Rico, the company continues its $550 million investment in its U.S. mainland – Puerto Rico trade. The Isla Grande port facility project, designed to accommodate Crowley's two new combination container/Roll on-Roll off (ConRo) ships powered by LNG, includes the addition of a new 900-foot pier; three new container gantry cranes that offer best-possible container-handling to improve safety and maximize container loading and discharge efficiency; new seven-lane entrance and exit gates; new container top loaders, and a completely reconfigured terminal to allow for the handling and storage of more refrigerated containers, the stacking of containers and other efficiencies.
"With these state-of-the-art infrastructure upgrades, we have transformed our San Juan terminal into the most modern and efficient port facility on the island," Hourihan said. "This has helped us enhance Puerto Rico as a shipping and logistics hub for the Caribbean Basin and beyond, and opened up many new opportunities for our customers."
In Port Everglades Crowley added six new top-loaders to its yard equipment fleet to more efficiently handle container transfers when a trucker arrives for pick-up or delivery.
"When you look at this convenient, 74-acre South Florida location along the I-95/I-595 corridor, plus the new terminal operating system and container handling equipment, you can see how we've put everything in place to achieve fast, money-saving turn times," said Collar.
In Jacksonville, Crowley has modernized its new JAXPORT terminal facility by reconstructing the north gate, along with paving and restriping the yard. Highly organized container storage and efficient terminal access and egress also helps reduce trucker turn times and increase cargo velocity.
The terminal has also been restructured to support the company's two new ConRos, which are in the final stages of construction/delivery before entering service between Jacksonville and San Juan. These faster, more modern ships will be fueled from a new on-site, 528,000-gallon LNG storage facility.
All of Crowley's improvements are designed for safety, speed, efficiency and cost effectiveness.
"We are relentlessly focused on bringing greater velocity to our customers' supply chains, reducing friction, and improving the speed with which our trucking partners can access our terminals," said Frank Larkin, senior vice president and general manager logistics and commercial services. "Our terminal operating system is but one of many investments we are making, all designed for greater velocity with improved customer and partner satisfaction."
Bottom Line: Increased Efficiencies Mean Increased Savings
Crowley understands that gate turn times significantly impact the bottom lines of its trucking partners and shipping customers. With the combination of new technology, equipment and terminal upgrades, Crowley is investing in its supply chain velocity in a way that allows drivers to turn more loads each day and shippers throughout the U.S., Puerto Rico, Caribbean and Central America to receive cargo at highly competitive speeds. In the logistics industry, time is money, and Crowley is helping to save loads of it.
If you have additional questions, please contact your sales representative or the Customer Care Department at 1-800-CROWLEY.