---
National Military Appreciation Month (NMAM) has been celebrated since 1999 in the U.S. to commemorate, recognize and honor former and current members of the U.S. Armed Forces who served, fought and sacrificed for the nation. At Crowley, the influence and contributions of military members and veterans provide immense value as they instill valuable knowledge and experience across the organization. This month, we're proud to share some of their personal stories and insights about the impact their military service has had on their careers.
---
Commitment to Go Above and Beyond
---


Rochelle Griffis, senior administrator, Safety, Sustainability and Resilience
Branch of Service: U.S. Navy, Personnelman Second Class, 8 years active duty and 2 years reserve
---

Cultural Intelligence in the Military

Serving the nation opens up the door to incorporate diverse backgrounds of people from around the world. These interactions can be complex as you need to adapt, understand and collaborate with people who have a different communication and work skillset. The military taught me to work efficiently across cultures and manage this collaboration by paying attention to details because it made me understand the repercussions of inaccurate information.

At Crowley, I started as a vendor in 2016. Soon, I became an employee of the corporate security group as an assistant facility security officer (AFSO) managing records according to the National Industrial Security Program (NISP). Within our team, we work on facility security policies and procedures related to access control and monitoring to assist and enhance Crowley's security at all of our global facilities. We work to align our internal practices with Customs-Trade Partnership Against Terrorism (C-TPAT) standards. Applying the cultural intelligence skills I learned in the military to my role in Corporate Security, makes it easier for me to communicate with my team and others. I really pay attention to their needs and those we work with outside of Crowley, to accomplish common goals with as much accuracy as possible. Something that also reflects in the work I do at Crowley's Veteran Employee Resource Group (VERG), an internal network to support, develop and empower our military workforce.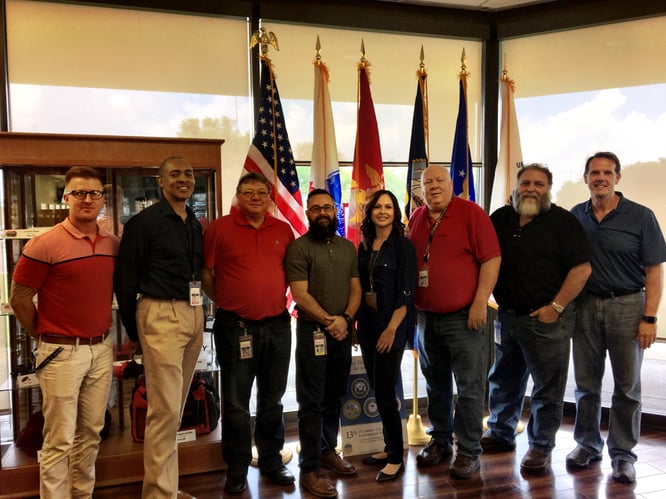 "Above and Beyond" Mindset

I had mentors and leaders who embodied the Navy's core values - honor, courage, and commitment. I learned from their feats and combined them into my own flare, which created a strong commitment to assisting others. When you take care of people, they feel valued, and that value turns into passion for their job, which helps meet the team's goals.

Whether I'm in a military or civilian role, "Above and Beyond" is my mindset. Putting it to action has made my career flourish and has made me experience recognition in the form of gratitude from the people I've been able to serve. I'm blessed it has ranged from assisting Navy sailors advance to be Navy chiefs, helping a 100-year-old widow with her military-dependent benefits, to the needs of the Navy Sea, Air, and Land (SEAL) and Special Warfare Combatant-craft Crewman (SWCC) trainees and operators with their travel and military benefits.

Helping and watching them walk away with gratitude and one less thing to worry about so they can continue to be mission-ready was the biggest reward of all.

Military Legacy
My father was in the Navy and served for 24 years; he retired as a master chief (E9). He was stationed in the Philippines, where I was born and lived for the majority of my childhood. Nothing compares to when he came home from deployments. All the families would come together to welcome the servicemen and women and show their love. My mom, brothers, and I would often anticipate that day to show the love and respect we had for my father.
At the age of 18, I was working three jobs and one day, my father sat me down and asked me to join the Navy. He explained all the Navy benefits, but more importantly that he wanted me to follow in his footsteps. It's a moment that humbled me then, and today, I'm proud to say I've done.
Click here to learn more about the value and impact of careers at Crowley.